Clonmore GFC
Obituaries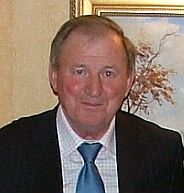 PHOTO: The late Denis Connolly
10 November 2018 - Eoin Byrne RIP

On 10 November 2018, the Clonmore club was devastated by the death of one of our most talented young players, Eoin Byrne.

Eoin had shown outstanding ability from an early age with his lightning pace, deadly accuracy and eye for goal. Such was his dedication to playing for Clonmore that he would certainly have gone on to become a great player for the club for many years.

Eoin was one of an exceptional group of young players in our club who grew up together. In 2014 he helped this talented group of players to win the Under 14 Feile in Mayo. In 2016, Eoin really blossomed in the Under 16 Championship when he scored 0-8 from play in our semi-final win over St Patricks and 2-4 as we beat Tinryland in the Final.

2017 was another great year for Eoin and he capped it off with 1-1 in the Minor 'B' Final win over MLR, playing in his now customary position of centre-forward.

Eoin was really looking forward to playing adult football with our Intermediate team in 2018. But is was to be a frustrating year for him as he struggled to shake off a hamstring injury and then picked up a knee injury in June which ruled him out of the Championship. Nevertheless, he did fulfil his ambition to play Intermediate football, coming on in a League game against Ballinabranna on 4 May.

Eoin also missed most of the Junior Championship but returned in time for the semi-final on 9 September and was an automatic choice at centre-forward. In spite of his long injury layoff, he was still our most dangerous forward, scoring 0-2, but his efforts couldn't prevent a defeat to MLR.

Eoin played his last game for Clonmore on 2 November in the Under 19 Championship against Palatine when he displayed his usual incisive running and, as always, was on the scoresheet.

Not only was Eoin an outstanding sportsman but he was an outstanding young man, a Meitheal leader in Coláiste Eoin and an absolute credit to his family. He left many positive memories in his short lifetime and he will not be forgotten.

The club extends deepest sympathies to the Byrne and McCarney families on their great loss. Ar dheis Dé go raibh a anam - may Eoin rest in peace.


24 June 2018: Harry Pollard RIP

The club was shocked and saddened at the sudden death last weekend of former player and stalwart clubman, Harry Pollard. Harry played in the sixties and early seventies and his sons Niall, Colin, Paul and Keith also played with distinction for the club. Harry and his wife Josie and family have been dedicated Clonmore supporters for many years and he attended the official opening of our clubhouse just a week before his untimely death. Clonmore GFC sends its sincere condolences to the Pollard family at this sad time. Ar dheis De go raibh a anam.
27 April 2018: Tom Deering RIP
Clonmore GFC is sad to report the death of former player and club officer, Tom Deering, Coolmanagh. We send condolences to his wife Greta, daughter Davina, sons Jeffrey and Alan and his extended family.
Ar dheis Dé go raibh a anam.
1 February 2018: Eddie Forde RIP (1934-2018)
On 1 February 2018, the club lost one of our longest serving and most respected officers when our esteemed President, Eddie Forde, passed away at the age of 83.
Eddie was a hugely popular figure in the Hacketstown area and was a true gentleman who will be sorely missed by the club and the wider community.
In his youth, Eddie was an accomplished hurler. He played for Hacketstown in two county finals in the fifties and also hurled for the county. Eddie's love of hurling came from his early years in Cashel, Co Tipperary, and he remained an ardent Tipp supporter all his life.
In 1977, Clonmore GFC made the inspired decision to appoint the straight-talking Eddie as Secretary of our Juvenile club. During his ten years in that role, Eddie, along with Tommy Kehoe, transformed Clonmore's underage set-up and guided the club to unprecedented success at underage level.
Eddie was Chairman of Clonmore's adult club from 1991 to 1997 and under his leadership the club enjoyed a golden era, winning Minor, Under 21, Junior and Intermediate Championships.
One of Eddie's lasting legacies is the weekly Lotto which is still going strong and has enabled the club to develop our grounds to be one of the best in the county.
Eddie also acted as MC at our Annual Awards for many years and always enhanced the occasion with his professional approach and his carefully chosen words.
Eddie was deservedly elevated to the position of club President in 2010 and was inducted into our Hall of Fame in 2012. He was still active on the Committee at the time of his death and attended the AGM in December 2017, speaking out about one his favourite subjects – All-Ireland tickets!
At county level, Eddie served as Treasurer and Vice Chairman of Coisde na nÓg and Chairman of the GAA Publications Committee. His good work was recognised by the county when he won the Setanta Award in the Carlow Sports Awards in 1980 and was again honoured with an Award for Outstanding Service to Carlow GAA in 2010.
Eddie has left a lasting legacy to Carlow GAA and to our club and it's great to see that his son Ted (Secretary, Coiste na nÓg) and nephew, Jim Bolger (Chairman, Leinster Council) are continuing his great work.
Eddie Forde's name will forever be synonymous with Clonmore Gaelic Football Club and he will always be remembered for his passion, support, achievements, wit and good company.
Clonmore GFC sends sincere sympathies to Eddie's wife Margaret, family and friends. Ní bheidh a leithéid ann arís - we will not see his likes again.
Clonmore GFC would also like to remember former players Mick O'Brien, Mick Furlong, Tom Deering, Harry Pollard and Pat Bowes who all went to their eternal reward during 2018. Ar dheis Dé go raibh a n-anamacha.
4th January 2018 - Michael O' Brien .

Oration by James Dunne, Wicklow GAA.

Before we leave this sacred place that holds the remains of many great Gaels, let us pause for a while to say our final farewell and pay our final respects to one of Wicklow and Carlow's staunchest and loyal Gaels.

Michael was born 81 years ago in Hacketstown in Carlow. He was one of five boys and one girl.

He was a young sportsman when in 1956 he was on the Clonmore team that won the Senior Football Championship. While his first success was in football it was in hurling that he excelled. He was on the Carlow team that won three successive Intermediate provincial titles culminating in All-Ireland Success in 1962. During that period he played a pivotal role in securing National League Div. 2 Honours on two occasions.

He was a member of the Air Corps for nine years and played a central role in securing many of their successes.

Coming to Wicklow in 1968 to manage Arklow Homes with his brother in law Roy Dempsey he joined the local Arklow Rock Parnells club. Within two years, they captured their first senior title with Michael as player and manager. Under his leadership, the club went on to win three more titles. He also served a period as Chairman of the Club.

Playing for Wicklow, he captained the county to provincial honours. The team was narrowly defeated by Tipperary in the All-Ireland final.

He was manager and trainer of the County Hurling Team that won National League honours in 1990 the same year they won the Kehoe Cup.

He also trained and managed the county senior football team to the National League final

In the Millennium Year he joined the pantheon of the Hurling greats when he was selected on the Wicklow County Hurling Team and Kilmacud Crokes Hurling Team of the Century, a club he won a Dublin Senior C'ship with.

He is the only player in Ireland to have entered the Hall of Fame in two Counties - both Carlow and Wicklow honouring him for his excellence.

Truly we are talking about a most exceptional man who won enormous respect and affection within the sporting and general community. A man who never thought for one moment that he was someone special.

Mick O' Brien has left a giant footprint in the sands of our time. He will however be remembered by his family, his wife Anne, son Michael, daughters Mary and Catriona, his grandchildren, his sister and brothers. He was totally dedicated to his family. To them we extend our sincere sympathy.

To us his extended GAA family we can take pride and satisfaction from being privileged to have known a great human being and one who shared his time and vision with us.That great Kerry poet Garry McMahon wrote for his father:

How I laughed as I ran through the bare foot fields

Full sure I would never grow old

For I've lived and I've seen

The leaves that were green

Turn to a fine shade of Gold

Michael O'Brien was that fine shade of gold. May the green sod of the Garden County rest lightly on your bosom. Ar dheis De go raibh a anam.
July 2016 - Tom O'Reilly RIP
Tom and his brother Father Bernard, were fine footballers who played on the great Clonmore team which won the Senior Football Championship in County Carlow in 1955.

Tom played at left corner forward on that team, with Bernard at midfield, and he scored a vital point in the final to help the club win its first ever Senior Championship. By the time the club won the Championship again in 1956, both brothers had left the area – my understanding is that Tom had finished serving his time in Duffy's of Hacketstown and returned to run the family business in Bailieborough while Bernard had joined the priesthood.

The O'Reilly brothers are still fondly remembered in the area as two of the outstanding players on that iconic team which made history and brought glory to the club in 1955.

Sadly, there are not many of that team still with us. Two members (Denis Connolly and Matt Cullen) passed away last year and Tom's passing leaves just four of these great men still alive – Denis Cullen, Paddy Duffy, Tom Looby and Father Bernard.

Clonmore GFC extends sympathies to Tom's wife, Catherine, and family and they can rest assured that the O'Reilly name will not be forgotten in our little corner of North-East Carlow.
23 December 2015: Denis Cullen RIP
The club is in mourning following the death last week of Honorary President and founding member, Denis (Dinny) Cullen, at the age of 88. Denis was a hugely popular character in the Hacketstown area and a true gentleman who will be sorely missed by the club and the wider community. He helped to found Clonmore GFC in 1947 and he played for over 20 years, winning the Junior Championship in 1950 and Senior Championships in 1955 and '56. As an outstanding full-forward he played regularly for the county and was on the Carlow panel which played Mayo in the 1954 NFL Final in Croke Park. His contribution to Carlow GAA was recognised in 2002 when he was inducted into the county's Hall of Fame.
After he finished playing, Denis served in various capacities with Clonmore, including Chairman, and was Joint Treasurer for over 30 years, a role now filled by his son Matthew. Denis was always an extremely generous sponsor to both our senior and juvenile clubs down the years and was still attending events up to recently - he even attended the AGM on 10 December. Winner of Clonmore's Hall of Fame award in 1979, Denis was deservedly elevated to the position of Honorary President of the club in 2007.
The huge number of people who attended his funeral was an indication of the high regard with which he was held throughout the county and beyond. Guards of Honour from both Carlow and Clonmore GAA lined the streets of Hacketstown at Denis's funeral on Christmas Eve and the Clonmore No 14 jersey was placed on his coffin. Clonmore GFC sends sincere sympathies to the family and friends of this great Gael – ní bheidh a leithéid ann arís.
6 August 2015: Denis Connolly RIP
Denis Connolly who passed away on 8 August at the age of 81 was one the last surviving members of the great Clonmore teams of the 1950s and 60s. Along with his brothers Mick, Paks and Jay, Denis graced the Clonmore jersey with distinction during the club's golden era when we won the Senior Football Championship in 1955, the League & Championship double in '56 and contested county finals in 1958, 63 and 65.
The Connolly brothers were iconic within the club as all four were over six foot tall, possessed great athleticism and were naturally gifted footballers. The legendary Paks, a regular with Carlow for 12 years and Railway Cup medal winner with Leinster in 1961, died in 1987 at the age of 56. Mick and Jay also played with Carlow when the county team was a match for the best. Sadly, all four brothers have now passed away.

Denis was a strong and versatile player who gave many years of dedicated service to the club. After winning a Minor Championship with a Grange area team in 1952, he quickly established himself on the Clonmore senior team and played at right half-forward in the 1955 county final, left half-back in 1956 and at midfield in 1958 - all three finals against O'Hanrahans with Clonmore winning in '55 (2-10 to 0-7) and'56 (2-8 to 0-4) and losing 58 (2-5 to 0-6). He continued to serve the club right up to the mid-sixties and played in the county finals in 1963 and '65 when Clonmore lost to Tullow and Eire Og. Denis's outstanding contribution to the club was recognised when he received the Clonmore Hall of Fame Award in 1992.

Denis's son John, who won Minor and Junior Championships with Clonmore in 1992 & 94, is currently a mentor with our u-14 team which has six players on the county development squad - inevitably two of the six are Connollys - Denis's grandson/ John's son, Luke, and Mick's grandson/ Bobby's son, Cormac. Denis's daughter, Brigid and her husband, Brendan Ryan, are also involved with Clonmore juveniles and girls teams and several other members of the extended Connolly family are heavily involved with the club.

Denis is remembered with great respect by friend and foe alike, as a gentleman off the field and as a great hearted player who was uncompromising and fearless on it. The huge number of people who attended his funeral was an indication of the high regard with which he was held throughout the county, and beyond. Guards of Honour from both Clonmore's adult and juvenile clubs lined the streets of Hacketstown at Denis's funeral on Sunday, 9 August, and the Clonmore jersey was placed upon his coffin. Clonmore GFC sends sincere sympathies to the family and friends of this great Gael – ní bheidh a leithéad ann arís.
3 November 2013: Des Kelly RIP

The club is very sad to report the death of Executive Committee member, Intermediate Selector and former player, Des Kelly, at the age of 63.

Des gave great service to the club as a player from the late-60s to the early-80s and was renowned as a very accurate forward and free taker. He captained our Minor team in 1967 and again in 68 and his talent was recognised with a call up to the county Minor team.

He will be best remembered for his display in the 1980 Intermediate C'ship Final where his personal tally of 0-6 ensured victory for Clonmore in a very narrow win over Nurney (0-10 to 2-3). Our photo shows Des with the Hall of Fame Award he received from the club in 2006 in deserved recognition of his service as a player.

Having just retired from work, Des got back involved with the club this year joining the Executive Committee and taking on the onerous task of Intermediate Selector where his calm personality and wisdom proved to be invaluable. The club is both shocked and saddened at his death after such a short illness. A true gentleman who was universally popular, Des will be sadly missed by all who knew him.

We offer our sincere condolences to Des's wife Sheila, sons Darren, Brian, Conor, daughter Ashling and a wide circle of friends and family, many of whom have a long association with the club . Ar dheis Dé go raibh a anam.

4 September 2013: Kevin Tallon RIP

The club is sad to report the death of Kevin Tallon at the young age of 54.We offer our sincere condolences to his wife and family. Kevin was laid to rest in Holy Cross, Co Tipperary on Saturday, 7 September.

Kevin's father, Kevin Senior ("Ructions"), was originally from Coolmanagh, Hacketstown, and although the family lived in Phibsborough, Dublin, Kevin Junior spent his summers in Hacketstown and threw in his lot with Clonmore GFC at an early age.

He played Minor at 14 in 1973, was a key player on the Clonmore U-21 teams in the 1976 and 1978 county finals and at the age of 19 was on the Carlow county U-21 and senior football and hurling teams. He played his hurling with Palatine and won a Junior Hurling Championship in 1983. He was on so many teams at one stage (between Carlow and Dublin, hurling and football) he is reputed to have played nine games in one weekend !

Kevin was an exceptional talent with great speed, skill and courage and played most of his football at midfield or centre forward. It was at No 11 that he won an Intermediate Championship medal with Clonmore in 1980 and he also won two Div 2 League titles in 1977 and 1981 (as captain). Having turned down the opportunity to play for the Dublin U-21s in 1980, one of Kevin's outstanding performances was, ironically, for Carlow U-21s against Dublin in a Leinster Championship semi-final for which he received rave reviews at the time.

Kevin was a outgoing person who enjoyed the craic and was well liked by all who knew him. He had a great "grá" for Hacketstown and its people and will be sadly missed by his many relations and friends in the area.

May he rest in peace.

21 July 2013: Gerry McCarney RIP

Clonmore GFC is in mourning following the death of former player and officer of the club, Gerry McCarney, after a long battle with illness. Gerry passed away peacefully this morning at his residence in Minvaud surrounded by his wife, Kathleen, and family.

To Kathleen, sons Gerard and Conor, daughters Carol, Deirdre, Nina and Ciara and to his extended family and friends, the club offers its sincere sympathies at this sad time.

2011 Clonmore GFC Hall of Fame Winner: Gerry was inducted into the Clonmore GFC Hall of Fame at the Dinner Dance in February 2012. The following is the citation that appeared in the Nationalist at that time.

"Gerry McCarney was a distinguished hurler and footballer with his local club, Craobh Ciarán, of Coolock before moving to Hacketstown in 1961 to work on St Patrick's College, Highpark. He was involved in the Clonmore teams beaten in senior county finals in 1963 and 65 along with brother Tommy. Known as a crafty forward, he brought his Dublin "cleverality" with him and could always be relied upon to do the unexpected. Gerry gave sterling service to the club during the lean times of the sixties & seventies and, when his playing days were over, got involved on the Committee, helping to develop the new grounds at Woodside and received the Clubman of the Year Award in 1977. He was the first Chairman of the new Juvenile Committee in 1978 and did trojan work for the juveniles over the years. Many of Gerry's family have followed in his footsteps and are heavily involved in the club - three grandsons, Kevin, David and Conor, won medals in 2011. A very deserving candidate for entry into the Clonmore Hall of Fame."

Ar dheis Dé go raibh a anam.

30 January 2013: Nicksey Byrne RIP

Clonmore GFC would like to send sincere sympathies to the family and friends of the late Nicksey Byrne who passed away last week. A very popular character around Hacketstown, Nicksey played football for Clonmore in the 1960s and '70s and was also a talented handballer, winning a County Championship with the Hacketstown Team of Six in 1980.

Nicksey died peacefully on Wednesday, 30 January, after a long illness, aged 61.

Ar dheis Dé go raibh a anam.

24 December 2012: Pat Butler RIP.

Clonmore GFC would like to send sincere sympathies to the family and friends of Pat Butler who played for Clonmore in the late '60s and early '70s. Pat died peacefully on Christmas Day after a long illness, aged 69.

Pat's late father, Willie, was a stalwart of the club for many years and was our main recruiting agent in the Ballyconnell area while brother, Liam, was a commanding full-back for Clonmore and Carlow in the early '70s. Pat was a tigerish corner back before a knee injury forced him to have to play in goal, this injury would eventually bring a premature end to his football career. Pat moved to Luggacurrran in 1978 where he and his wife Mary raised a family of five boys and four girls. Pat was heavily involved in the local GAA club, St Joseph's, with whom his sons played, one of them playing for Laois minors. Although he lived in Laois for so many years, the Priest at his funeral said that Pat was a very proud Clonmore and Carlow man.

10 July 2012: Les Humphries RIP

Clonmore GFC is in shock following the sudden death of Les Humphries at home on Tuesday evening. As a mark of respect, all club activity has been cancelled until further notice. The club would like to sympathise with Les's wife Ann, sons Alan and Niall, daughter Suzanne, and all his family and friends on their sad loss. May he rest in peace.

7 June 2012: Jay Connolly RIP

The Clonmore club was in mourning last weekend following the death of John "Jay" Connolly, who played with distinction on the great Clonmore teams of the 1950s alongside brothers Mick, Paks & Denis. Jay was a fine all round athlete who won Leinster sprint championships with Knockbeg College and featured on a Leinster colleges football selection. He won a Junior Championship with Clonmore in 1950 and went on to play with the county team. To his family and friends we extend our sincere sympathies on the loss of this great Gael. May he rest in peace

1 March 2012: Mick Kelly RIP.

Mick Kelly passed away peacefully on Thursday, 1 March. Only a few days earlier, Mick was a hugely popular and deserving recipient of a Service Award at the club's Dinner Dance in the Seven Oaks Hotel. The esteem that Mick was held in by the people of Hacketstown and Clonmore could be seen from the standing ovation he received as the Award was presented and, sadly, by the crowds who attended his funeral six days later.

One of Clonmore's elder statesmen and an Honorary President, Mick gave a lifetime of service to the club. An ever present at games since the fifties, Mick helped out at every level from juveniles to seniors, always with quiet words of encouragement and a ready supply of minerals to quench thirsts. He served on numerous Committees, was our regular Gateman for many years and no job was too big or too small for him. Mick always enjoyed a bit of "banter" with referees and a famous exchange of words took place one day when Mick was doing Umpire but was waving every shot from the opposition wide. When the Referee questioned his decision to wave yet another shot wide, Mick stuck to his guns, refused to put up the white flag and informed the Ref that "the next one will be wide too" !

Mick's greatest quality perhaps was his gentle nature. He had a kind word and a ready smile for everyone. He was passionate about Clonmore Football Club and in latter years, when he could no longer travel to games, he couldn't wait to get a a full report from son Tommy or grandson Darragh. He was thrilled to be made Honorary President and delighted with the Service Award. Even though he was in hospital in the week before the Dinner Dance, the Award meant so much to him that he was determined to receive it in person. And he did - in a wheelchair and hooked up to an oxygen tank - nothing was going to stop him receiving that Award. So sad that he passed away within a few days but you get the feeling that he died happy.

He's up there now, still talking football, with his old buddies JJ and Charlie Ahern and Bob Tallon and Din Dalton. Seanie O'Toole, Jack "The Bookie" and Mick Connolly are picking the team and they have no shortage of talent to pick from - Molloys, McDonalds, Crowe, Fogarty, Rooney, Murray, Byrne, Purser and the greatest of them all, Paks Connolly, while the younger lads - Connie and Robert and young John Kennedy are looking for their red & green jerseys too. There will be minerals for all and no doubt the odd point waved wide for whoever is the unfortunate opposition. But no matter what, Mick "Sillar" will always be remembered as a true gentleman with a heart of gold.

To his wife May, sons Tommy & Sean, daughter Ann, and his extended family and friends we offer our deepest sympathy on the loss of this great Gael.

Ar dheis Dé go raibh a anam dhilís.

14 June 2010: John J Doyle RIP

" A dedicated man at the heart of everything in his GAA club". By PAUL DONAGHY, Carlow People.

NO SPORTING organisation can survive and progress without the dedication and sacrifice of many who make its heart tick; men and women who look beyond their own cubicle to advance their choice of sport and help in the promotion and development of the younger corps

John J Doyle of Clonmore, who was buried on Wednesday, 16 June, was one of that phalanx, he having contributed immeasurably to his local club, Bord na nOg and the county administration, and of course his community. And he was one of the first welcoming faces this, then young, scribe met when arriving in a new county without any social or sporting connections – in a communications isolation for a spell if you like.

The John Doyles of sport don't rant or boast, nor demand special treatment, but accept the democratic rule, but to me he was one of the gentlemen of sport in this county, quiet-spoken with never a sour word for those who did not share his opinion. He treated all with respect and never caused a breach of dignity in discussion; none leaving his company feeling the point had been lost.

John Doyle back then was Clonmore; its founder and heart; the fulcrum of everything which happened around Hacketstown. The man from Marian Terrace formed Clonmore GFC in '47 in concert with Dan Donoghue then chairman, secretary Michael Donoghue, Larry Kenny Michael Connolly Jim Kehoe and Jim Doyle.

He was to the forefront of the purchase of the present venue – Woodside - from the Land Commission for a very favourable £1,200; and after years of development the venue was officially opened by GAA president Paddy Buggy in '84. John not only formed the club but was on the team which won the JFC in '50; then the club's premier fifteen. Their No. 11 soldiered for a decade but his career was on the wane just before Clonmore won back-to-back county senior championships in '55 and '56 defeating the powerful O'Hanrahans in both finals.

The No 11 jersey was draped on his coffin at his funeral as well as a county shirt identifying John's contribution to the greater county good; his gift really through eight years as secretary of Bord na nOg and of course a term as assistant county secretary in the '60s, and two stints as chairman, as well as acting as Carlow's Leinster Council delegate.

He had an even a more influential role in Carlow in the late '50s as a senior football selector (spanning a decade) which included the '54 Carlow/Mayo National Football League final. Secretary of Clonmore GFC for a record 28 years, JJ was finally recognised, countywide, for his tremendous involvement when voted Hall of Fame winner by the Co. Carlow GAA selectors in '91.

He guided Clonmore through several 'homes' including Vermount, Kilmacart and The Curragh; players having to cross the river to train at the second named field.

"No job was too big or too small, and when it came to levelling the new field at Woodside I was only the lad to John who did it all then," said fellow clubman Eddie Forde at John's funeral. But there were other interests in the live of John J Doyle.

President of Clonmore after his withdrawal from administrative roles, he was a member of the Pioneer Total Abstinence Association and involved in FAS employment locally and was an Eucharistic minister and for 44 years was a reader at the Easter Passion.

In commercial life John began his working career in Bagenalstown before returning to Hacketstown to manage Duffy's Cash and Carry, subsequently taken over by Perry's – a role he played for six decades.

It was fitting that his contribution to the formation of young talent and character should be acknowledged by a guard of honour of local boys and girls at his funeral.

John is survived by his wife Jane and brother Tommy (London) the youngest of the family, (brothers Benny and Paddy predeceasing him), sons Sean, Peter, Jody, Ger and daughters Mary, Trudi, Joan, Majella and Fiona.

PAUL DONAGHY

16 February 2009: Martin Molloy RIP

Martin Molloy, who sadly passed away on 16 February 2009, held the distinction of being the first and only man ever to captain a Clonmore team to the Carlow Senior Football Championship, leading them to victory over O'Hanrahans in 1955 and repeating the feat in 1956.

When a club wins its first ever Senior Championship it is a very special occasion and every member of the team becomes a hero within the club. But the captain tends to hold a special place and Martin Molloy held legendary status in Clonmore.

A native of Ricketstown, Martin starred at centre half back with the great Clonmore team of the fifties – alongside brothers Larry at wing back and Patsy at corner forward. With the other members of Clonmore's "big five" (Paks Connolly, Jim Fogarty, Denis Cullen and Mick Connolly), Martin was a regular on the Carlow team at a time when the county was a match for the best, playing in the Leinster Junior Final of 1951 and against Mayo in the 1954 National League Final in Croke Park.

In a recent newspaper article, former Carlow player and trainer, Vinnie Harvey, described Martin as the "best small man ever to play with Carlow". High praise indeed. Nominated at right half back on the Carlow Football Team of the Century, Martin was unlucky to lose out to the great Peenie Whelan. There can be no doubting the greatness of the man or his love for football – when his native Rathvilly started up a team he returned to play for them winning a Junior Championship in 1967.

Martin is remembered with great respect by friend and foe alike, as a gentleman off the field and as a great hearted player who was uncompromising and fearless on it. The huge number of people who attended his funeral was an indication of the high regard with which he was held throughout the county, and beyond. Clonmore GFC sends sincere sympathies to the family and friends of this great Gael – ar dheis De go raibh se.

12 January 2008: Tommy Purser RIP

Tommy Purser who passed away on 12 January 2008 at the age of 66 was a very popular character in the Hacketstown area who will be sadly missed by all who were privileged to know him.Tom had a lifelong association with Clonmore GFC, having been an outstanding player for over twenty years and latterly an Honorary President of the club.

After a long and distinguished playing career, Tom is remembered with great respect by friend and foe alike, as one of nature's gentlemen off the field and as a great hearted player who was uncompromising and fearless on it. Tom always had a cheery word and a ready smile and was popular with young and old, although his opinions on modern day footballers were often of the caustic variety. The huge number of people who attended his funeral was an indication of the high regard with which he was held in the community.

Tom first played senior football as a teenager around 1960 when Clonmore were still one of the kingpins of Carlow football. After the 1963 and 65 County Senior Finals, both of which were lost unfortunately, Tom's career coincided with Clonmore's lean years so medals were few and far between. However, that did not deter him from giving his all, year in year out, and he captained the Clonmore team on many occasions. His ability was also recognised at county level and he played for Carlow at every grade including senior.

Having proudly worn the red & green jersey for over 20 years, the number 7 shirt which draped his coffin was a poignant reminder of Tom's many fine performances at left half back for club and county. Tom received a richly deserved Hall of Fame Award in 1998 and his lifetime of service to Clonmore was acknowledged when he was made an Honorary President of the club in 2000. He was also an outstanding handballer and captained Hacketstown to win the Carlow Junior Team of Six Handball Championship in 1980.

Tom's wife Lily (sister of former players Des & Tony Kelly) has, for the last thirty years, been looking after the jerseys for all of Clonmore's teams from adults to juveniles, a very important job which is always done to perfection and with great good humour. To Lily, daughters Anne and Kelly, sister Bridie, and all of Tom's family and friends, Clonmore GFC extends its sincere sympathies on the loss of this great Gael. Ar dheis De go raibh a anam.

December 2007: Jim Fogarty & Jimmy Crowe

The Clonmore club is in mourning this week after the passing of two players from the club's golden era of the fifties when Clonmore won the Carlow Junior Football Championship in 1950, Senior Championship in 1955, the League & Championship double in 1956 and were beaten Championship finalists in 1958.

Jimmy Crowe who died on Thursday, 6 December 2007, was the regular goalkeeper on the early Clonmore teams following the foundation of the club in 1947 and he went on to star in the Junior final of 1950 when Clonmore defeated Bagenalstown by 2-3 to 1-4. Jimmy was still involved when Clonmore won Senior Championships in 1955 and 56. A native of Tipperary, Jimmy was a very athletic goalkeeper and a lively character who always kept his backs on their toes with a running commentary on the game as he patrolled his goalmouth.

On the opposite team to Jimmy Crowe in the 1950 final and one of the stars of the Bagenalstown team, was none other than Jim Fogarty. Jim later came to work in Duffys of Hacketstown and starred as a outstanding wholehearted midfielder for Clonmore for many years, winning Senior Championship medals in 1955 and 56 before moving on to play for Tullow where he won two more Senior Championship medals in 1963 and 64. Jim was an exceptional player, a great leader and was one of Clonmore's "big five" who regularly played for Carlow, the others being Paks Connolly, Martin Molloy, Denis Cullen and Mick Connolly. Jim lined out at centre field on the Carlow team which played Mayo in 1954 National Football League Final in Croke Park and was nominated for the Carlow Football Team of the Century.

A native of Ballyoskill, Castlecomer, Co Kilkenny, Jim was an accomplished hurler and also represented Carlow in hurling. Alongside Jimmy Crowe he played for Hacketstown in two County hurling finals in the fifties and continued to hurl with Tullow into the sixties. Jim will be fondly remembered not just as a wonderful sportsman but as as a larger than life character who always had a smile and a kind word for everyone.

We send sincere sympathies to the families and friends of these two great Gaels – may they rest in peace.