Clonmore GFC
History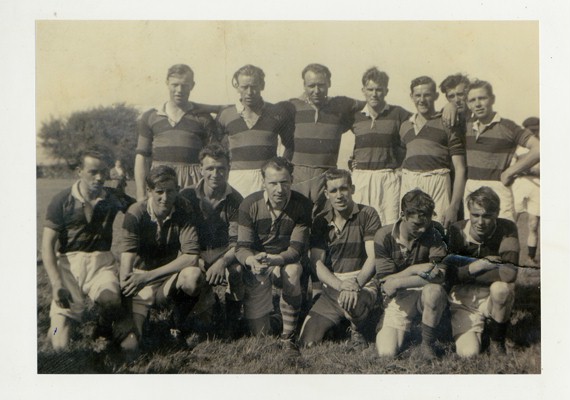 PHOTO ABOVE: 1948 Clonmore team. First team photo after current club was formed in 1947: Back (l to r): Tom Byrne, Bill McDonald, Paddy "Johnson" McDonald, "J" Connolly, Denis Cullen, Bob Tallon, John Nelson. Front: Mick Murray, Paks Connolly, Andy McMahon, John Doyle, Billy Byrne, Matt Cullen, Paddy Wybrant, Not in photo: Mick Connolly, Ned McDonald, Jimmy Crowe.
History of Clonmore GFC – 1947 to 2014
The club as we know it today was founded in December 1947 but there had been GAA clubs in the Hacketstown and Clonmore areas dating back to 1887.
Hacketstown had its own team then, campaigning first under the name of "Mick McQuaids" and later "McMurrough Kavanaghs" (c1908) and they played in both Carlow and Wicklow at different times. Clonmore also had its own team as did Ballybrack, Crecrin and Ballyconnell in Wicklow at different times.
Success was hard to come by in those years, transport was a problem and all these teams had a reputation for fighting – especially when they met one another, then sparks would really fly. The different clubs fielded teams legal and illegal and won and lost matches. Crecrin Harps (near Ballyconnell) were beaten by a one point by Graiguecullen in the 1890 Carlow County Final while Ballybrack were Wicklow Junior Champions in 1936 and Mick McQuaids/Hacketstown won the Carlow Junior Championship in 1922 and the Wicklow Minor Championship in 1942.
However, by the mid 1940s all clubs in the area had faded. After a few years, people began to take an interest in football again and in late 1947, a group of men led by local publican and noted footballer Larry Kenny approached the curate Fr Maher to reform the club. Fr Maher, a Laois hurling man, jumped at the idea but said it would have to be a hurling club, to which Larry replied "if you put hurleys in these boys hands, we won't have fifteen left for any sort of team".
So began the story of Clonmore GFC, with the backing of the priest and the publican, and an enthusiastic group including Chairman Dan Donohue, Secretary Michael Donohue, Mick Connolly, John J Doyle, Jim Keogh and Jim Doyle (Clonmore). Jim Keogh went from house to house collecting shillings and half-crowns to buy a set of jerseys. The club now has its own ground with top class dressing rooms, gym, floodlights …….and several sets of jerseys.
The Fifties:
With the talent available in the area, Clonmore did not have to wait long for success and in 1950, the club won it's first honour, a County Junior Championship against Bagenalstown, on an atrocious wet day "when the only safe pair of hands were those of Paks Connolly". This victory elevated Clonmore into Senior ranks and heralded a golden age for the club with two Championships (55 & 56), two League titles (56 & 57) and SFC Final appearance in 1958, 63 and 65.
The Clonmore team of the fifties is generally regarded as one of the finest club teams ever to play in Carlow. They won 19 games in a row in all competitions between 1954 and 1957 and they beat the best of surrounding counties in tournament games as well. There was a remarkable number of brothers on the Clonmore teams of the fifties – the Connollys (Mick, Paks, Denis & Jay), McDonalds (Paddy, Bill, Ned & Denis), Molloys (Martin, Patsy & Larry), Cullens (Denis & Matt), O'Reillys (Bernard & Tom), Bolgers (Eamonn & Liam) and Doyles (John & Benny). Add in county star Jim Fogarty, Pat Duffy, Andy McMahon, Tom Looby, Billy Rooney, Mick Murray, Billy Byrne, Johnny Kelly and Larry Kenny and you had a formidable outfit that was both feared and respected throughout the county.
Sixties & Seventies
Clonmore continued to be one of the top teams in Carlow in the early sixties reaching the County Senior Finals in 1963 and 65 losing to Tullow and Eire Og. A Clonmore team, including players from the Rathvilly area, defeated Ballinabranna in the County Minor Final in 1962 only to see the Championship taken from us following an objection.
There followed a barren spell in the late sixties and seventies in spite of continuing to compete at Senior level and produced some fine players such as the three Toms – Kehoe, Boland & Purser, Kevin & PJ Conway, Liam & Pat Butler, Des & Tony Kelly, Mick Sullivan, Fay McCoy, Mick "Brainy" Doyle, Pat Bowes, Peadar Daly, Gerry McCarney, Harry Pollard, John Tallon, the Doyles of Water Street and the Doyles of Clonmore.
A significant landmark for the club was the purchase of the current playing pitch at Woodside from the Land Commission for £1,000 in 1969, a deal brokered by Chairman Fr Bernard Ryan and Secretary JJ Doyle.
The club went through a period of transition in the mid-seventies with longstanding stalwarts JJ Doyle, Bob Tallon and Charlie Ahern making way for a younger group including Sean O'Toole, Jack Byrne, Dan Kenny & Tom Doyle. Clonmore reached U-21 finals in 1976 and 78 and won SFL Div 2 titles in 1974, 77 and 81. Still the club was struggling in the Senior Championship and in 1979, the difficult decision was made to go back Intermediate for the first time since 1950.

Under the inspirational leadership of Chairman, Sean O'Toole, the team bounced straight back up by winning the Intermediate Championship in 1980, powered by experienced players such as captain Declan McCarthy, Frank Donnelly, Mick Byrne, Jimmy Lawlor, Des Kelly and young players such as Larry O'Brien, Mick Doyle, Kevin Tallon, John Connolly, Pat Coughlan and Jim Bolger. The selectors for the 1980 IFC final were Mick Connolly, Jack Byrne and Sean O'Toole.
Eighties & Nineties
Following outstanding work with Juveniles and underage teams by people like Eddie Forde, Tom Kehoe, Frank Donnelly, Jim Doyle, Jimmy Lawlor, Willie Whelan, Liam Bowes and Paddy Lawlor, there followed another "golden era" in the late 1980s and early 1990s. In 1987, Clonmore's U-21s played out an epic three game battle with Eire Og in the County Final before going down fighting in the second replay. That Eire Og team went on to dominate Carlow and Leinster for the next ten years. The unlucky Clonmore team included outstanding individuals such as Eddie Coughlan, Brian Fagan, Thomas "Rookie" Doyle, Pat Kealy, Philip Cullen, Conor McCarney, Bobby Connolly, Eugene Lawlor and Fergus Doyle.
Undeterred, Clonmore fought back to win the club's first U-21 and Minor A Championships in 1991 and won the Minor again in 1992. The combination of established players like John Kelly and John Kennedy, the 1987 men mentioned above and youngsters from the 91/92 teams like Peter Kiernan, Paudge & John McGrath, John Connolly, Dermot O'Connor, the Pollards, Hunters, Quigleys and Doyles (Woodside and Clonmore) resulted in a fine team which went on to win the Intermediate Championship in 1994 and reach the Senior Championship semi-finals in 1997 and 2001.
Unfortunately, this very talented group of players didn't manage to make it to a Senior final, although they were consistently one of the top four teams in the county, as they showed when beating the reigning Leinster Club Champions on two occasions - Eire Og, in May 1993 by 2-4 to 0-8 in a SFL Div 1 game at Páirc Ui Bhriain (Eugene Lawlor scored two cracking goals) and O'Hanrahans in the 2000 League semi-final in Tullow.
The new century – 2000 on
The new century has heralded major developments at the club grounds with the pitch being levelled, work on dressing rooms, showers, gymnasium etc, floodlighting installed and an adjoining field purchased as an additional playing pitch.
On the field, Clonmore has continued to compete with hope and fervour in recent years. The century started with narrow defeats in the 2000 League final by Eire Og, the 2001 Championship semi-final by Palatine and the 2005 All County League final by Kildavin. After dropping from Senior to Intermediate in 2005, the Intermediate team have been putting in a huge effort in recent years, falling at the semi-final stages in 2006 and 2013 and beaten in the final in 2007, 2008 (after a replay) and 2011. The Minors were very unlucky to narrowly lose the 2008 "A" Championship semi-final to Eire Og.
2011 was a good year for the club with three cups won - pride of place going to the Minors for winning the Minor B Championship - the first Championship victory since 1994. We also won the finals of SFL Divisions 2 and 4.
2012 did not go as well as expected. The Intermediates won Div 2 again but had a disappointing Championship failing to make the quarter-finals. The Under 21s got to the final again and put up a great performance but it just wasn't enough to overcome a strong O'Hanrahan's side in the final.

2013 promised much but unfortunately no silverware was delivered. We reached the finals of the Under 21 and Minor B championships putting up very competitive performances in both games but neither team got the bit of luck that would have turned defeat into victory. The Intermediates prepared very well and looked like world beaters at times but everything went wrong in the semi-final against Ballinabranna and we did not do ourselves justice.
Having contested the Minor and U-21 finals last year, we should have a great chance of winning these Championships in 2014. B
uilding on the foundations laid in recent years, and with an abundance of emerging young talent, the Intermediate team should be well able to have a shot at the Championship in 2014 although the IFC will be very competitive this year with four teams coming down from Senior.
Best of luck in 2014 lads.
PHOTO BELOW: An early 1940s team

from the Clonmore/ Coolkenno area before Hacketstown joined in 1947.

Back (l to r): Jim Walsh, Paddy Byrne (Seskin), Myles Keogh (Killinure), Fr Brennan CC, Jack Byrne (Minvaude), Dan Doyle (Knockatomcoyle), John Timmons (K'ure). Middle: Paddy Neill (Ballinakill), Jim Keogh & Paddy Keogh (K'nure), Vincent Blake (Mullinacuffe), Kevin McDonald (K'coyle), Jim Doyle (Clonmore). Front: Paddy Kenny (Hacketstown), John Keogh (K'nure), Kevin Byrne (Seskin), Jimmy Coughlan (Clonmore).