Clonmore GFC Membership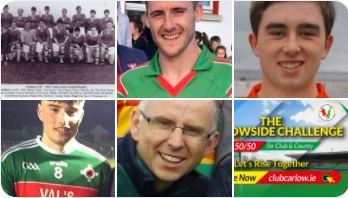 Welcome to the official Lotto website of Clonmore GFC in Co. Carlow. The Clonmore GFC Fundraising Lotto draws which run on a weekly basis play a huge part in the fund raising efforts of our GAA Club.
We encourage all of our ex members and community to play the Clonmore GFC fundraising lotto. We also hope that we can all work together to promote this lotto and help get back in touch with people from Hacketstown & Clonmore, Carlow who may now be living all over the world.
To play, any four numbers are selected from 1 to 30. If anybody matches the four numbers selected on the night he/she wins or shares the Jackpot. Tickets cost €2 each.
PHOTO: The club is delighted to announce the following Award Winners for 2020: Intermediate Player of the Year: Enda McGrath, Junior Player: Rory McKernan, Young Player: Luke Connolly, Minor: Oisín Doyle, Club Person of the Year: Ted Forde, Juvenile Club Person: Trish Kelly and the Hall of Fame Award goes to Peadar Daly. Peadar was a strong midfielder on the Clonmore teams that reached the County Senior Football Finals in 1963 and 1965. Due to Covid restrictions there will be no formal Awards Ceremony this year but the winners will be presented with their awards over the coming weeks. The Awards are sponsored by former Clonmore & Carlow great, Tom Boland, who Captained the 1965 SFC Final Team that Hall of Fame winner Peadar Daly was a member of. Congratulations to all the Award Winners and thanks to Tom for his generous support. The club is also asking all Members to support the Barrowside Challenge - see details in Latest News. Thank you.
Your continued support is much appreciated and we wish you good luck in future draws.
The club's grounds are located at Woodside, about a mile outside Hacketstown on the Clonmore road. Visitors coming from the Carlow / Tullow /Rathvilly direction should follow the main road to Hacketstown and turn right as they enter Hacketstown opposite "The Hill" pub.
Contact us at:

Chairman: James Doyle, 087-6674028

Secretary: Clive Lambe, 086-8352884

PROs: Ger Doyle, 087-6182062 & Des Byrne, 086-3334440
Best of Luck,

James Doyle & Committee,
---
June 14 2021

June 7 2021

May 31 2021

May 24 2021

May 17 2021

May 3 2021

Barrowside Challenge - Club/County Fundraiser
Carlow GAA has launched a fundraiser which will be split 50/50 between club and county called the Barrowside Challenge.

It involves participants from every GAA club in the county walking 5k on the June Bank Holiday weekend. The Clonmore participants are Anthony Byrne, Mayghan Doyle and Frank Donnelly.

Please support one or more of our three participants at: www.clubcarlow.ie




May 1 2021

Award Winners 2020
The club is delighted to announce our Award Winners for 2020:
🏐Intermediate: Enda McGrath
🏐Junior: Rory McKernan
🏐Young Player: Luke Connolly
🏐Minor: Oisín Doyle
🏐Club Person: Ted Forde
🏐Juvenile Club Person: Trish Kelly.
🏐Hall of Fame: Peadar Daly.
Congrats to all.



April 10 2021

Government's Covid-19 moving forward plan.
JUVENILES: Monday 26 April - looks like we will be slowly moving back to allow our Juveniles train (with certain guidelines and recommendations) later this month. This will put a huge smile on the faces of a lot of our youngsters and their parents.

COUNTY: Return to collective Senior inter county training on 19 April with the Allianz Leagues Football starting back on May 15/16 & League finals on w/e of 19/20 June.






Is there anyone you know who would be interested in hearing about the Clonmore GFC Online Community?

Click here to email your friends and help us to 'Spread the Word' »