Clonmore GFC
Clonmore Under 12 team which were narrowly beaten in the 2010 county final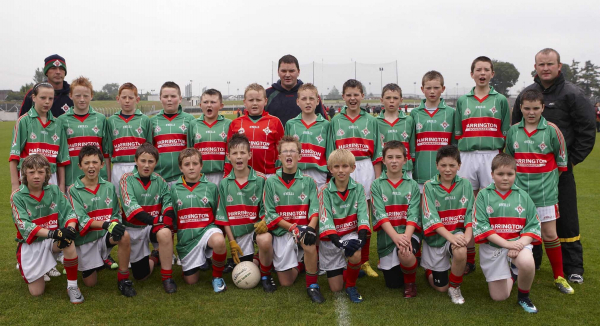 History
Clonmore GFC is situated in the north-east of County Carlow close to the Wicklow border and draws its players and support from the parishes of Hacketstown and Clonmore.
Large parts of these parishes are in County Wicklow so Clonmore GFC draws on players living on the Carlow side of the border. Meanwhile, there are players from Hacketstown parish playing in Wicklow for Ballymanus, Knockananna and Kiltegan and players in Clonmore parish playing for Coolkenno.
Clonmore GFC, as we know it today, was founded in 1947 but there had been GAA clubs in the area going back as far as 1887. Hacketstown had its own team then, campaigning under the name of "Mick McQuaid" in both Carlow and Wicklow at different times. Clonmore also had its own team as did Ballybrack in Wicklow. Success was hard to come by in those years, transport was a problem especially when playing distant teams in Wicklow and all three teams had a reputation for fighting especially when they met one another.
The report of a Championship match between Clonmore and Hacketstown played on 24 March 1889, stated:
"Play was impossible from the start. One highly excitable individual shouting after five minutes "there are no bones broken, nor no man killed yet?". Match not finished, disorderly. Both clubs were suspended at the following County Board meeting".
All three clubs fielded teams legal and illegal and won and lost matches. Mick McQuaids reached a Junior Final in Carlow in 1921 while Ballybrack won a Wicklow Junior Championship in 1936. However, by the mid 1940s all clubs in the area had faded. After a few years, people began to take an interest in football again and in late 1947, a group of men led by local publican and noted footballer Larry Kenny approached the curate Fr Maher to reform the club. Fr Maher jumped at the idea but said it would have to be a hurling club, to which Larry replied "if you put hurleys in these boys hands, we won't have fifteen left for any sort of team".
So began the story of Clonmore GFC, with the backing of the clergy and the publican, and an enthusiast group including Dan and Michael Donohue, Mick Connolly, Denis Cullen, JJ Doyle and Jim Keogh.
With the talent available in the area, Clonmore did not have to wait long for success and in 1950, the club won it's first honour, a County Junior Championship against Bagenalstown, on an atrocious wet day "when the only safe pair of hands were those of Paks Connolly". This victory elevated Clonmore into Senior ranks and heralded a golden age for the club with two Championships (55 & 56), two League titles (56 & 57) and a SFC Final appearance in 1958. The Clonmore team of the fifties is generally regarded as one of the finest club teams ever to play in Carlow and they defeated the best of surrounding counties in tournament games etc. Unfortunately, there was no All-Ireland Club Championship in those years.
The full history of the club can be found in a book entitled "Our Sporting Heritage", written by Jack Byrne and Jim Doyle (Water Street) and published in 1981.