Lorrha-Dorrha GAA Club Membership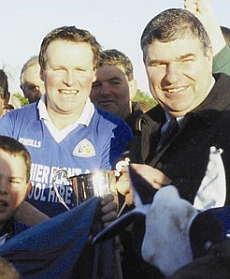 Welcome to the official Lotto website of Lorrha-Dorrha GAA. Our Lotto draws which run on a weekly basis play a huge part in the fund raising efforts of our Club.
To play, any four numbers are selected from 1 to 30. If anybody matches the four numbers selected on the night he/she wins or shares the Jackpot. Tickets cost €2.00 each.
Your continued support is much appreciated and we wish you good luck in future draws.
The Lorrha-Dorrha GAA Club also participates in the Tipperary County Board Lotto. Tickets for this Lotto cost €2.50 and for every four weekly lotto draws entered, you are automatically entered into their bonus monthly draw for numerous cars, holidays and cash prizes!
Click here if you'd like to support the Club by entering the Tipperary County Board Lotto.




---
June 5 2023

May 29 2023

May 22 2023

May 15 2023

May 8 2023

July 14 2020

Lorrha GAA News for 14 July
All the news on the Blues



July 7 2020

Lorrha GAA News for 7 July
All the news on the Blues



June 30 2020

Lorrha GAA News for 30 June
All the news on the blues






Is there anyone you know who would be interested in hearing about the Lorrha-Dorrha GAA Club Online Community?

Click here to email your friends and help us to 'Spread the Word' »