Kilmainhamwood GFC Membership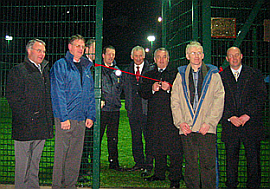 Welcome to the official Lotto website of Kilmainhamwood GFC in Co. Meath. The Kilmainhamwood GFC Fundraising Lotto draws which run on a weekly basis play a huge part in the fund raising efforts of our Club.
To play please select 4 numbers between 1 - 28 . If anybody matches the four numbers selected on the night he/she wins or shares the Jackpot. There are also 5 lucky dips drawn at random to share €100. One of these are picked from online players! Tickets cost €2 each.
Your continued support is much appreciated and we wish you good luck in future draws.
Best of Luck,
The Fundraising Committee,
Kilmainhamwood GFC,
Kells,
Co. Meath
---
December 4 2023

November 27 2023

November 20 2023

November 13 2023

November 6 2023

November 5 2021

Come Celebrate with our 1996 Senior Football Champions on November 26th
Kilmainhamwood GFC are hosting a 25th Anniversary Night of Celebration for our 1996 Meath Senior Football and League Champions in Cabra Castle on November 26th, with Dinner served at 7pm, followed by music by The Big Eazy and DJ.

We would be delighted to have you in attendance for what promises to be a great night of celebration and fun.

Tickets are priced at e50 and can be purchased by calling Alan on 0872817851, Mick on 0876610935 or from any Committee Member





January 13 2020

Kilmainhamwood GFC Healthy Club walking group
Kilmainhamwood GFC Healthy Club would like to invite you to join our 8-week walking group.



November 25 2019

National Club Draw 2020
National Club Draw 2020






Is there anyone you know who would be interested in hearing about the Kilmainhamwood GFC Online Community?

Click here to email your friends and help us to 'Spread the Word' »