Mullaghbawn GFC and Camogie Club Membership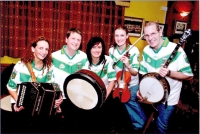 Fáilte chuig suíomh oifigiúil Lotto CLG Chúchulainn agus Chumann Camógaíochta An Mhullaigh Bháin. Ritheann ár gcuid Lotto chuile sheachtain agus is páirt an-mhór é dár gcuid bailiúcháin airgeadais. Le n-imirt pioc ceithre uimhir ó 1 - 24. Má bhíonn na uimhreacha ceanna ag aon duine is mar a phioctar ar an oíche buann sé/sí scair sa phota óir. Cosnaíonn na ticéid £1 an ceann.
Tá an Cumann fíor bhuíoch as ucht do chuid tacaíochta agus gach áth oraibh sna crannchuir amach anseo.
Welcome to the official Lotto website of Mullaghbawn GFC and Camogie Club. Our Lotto draws which run on a weekly basis play a huge part in the fund raising efforts of our Club. To play, pick four numbers from 1 - 24. If anybody matches the numbers drawn on the night he/she wins or shares the Jackpot. Tickets cost £1 each.
Your continued support is much appreciated and we wish you good luck in future draws.
---
March 21 2010

Being updated...

March 14 2010

Being updated...

March 7 2010

Being updated...

November 9 2008

Cúchulainn An Mullach Ban Weekly Newsletter:
Weekly Newsletter



May 4 2008

Weekly newsletter
Weekly newsletter



April 20 2008

weekly newsletter
weekly newsletter






Is there anyone you know who would be interested in hearing about the Mullaghbawn GFC and Camogie Club Online Community?

Click here to email your friends and help us to 'Spread the Word' »