Pádraig Sáirséil CLG (Patrick Sarsfields CLG) Membership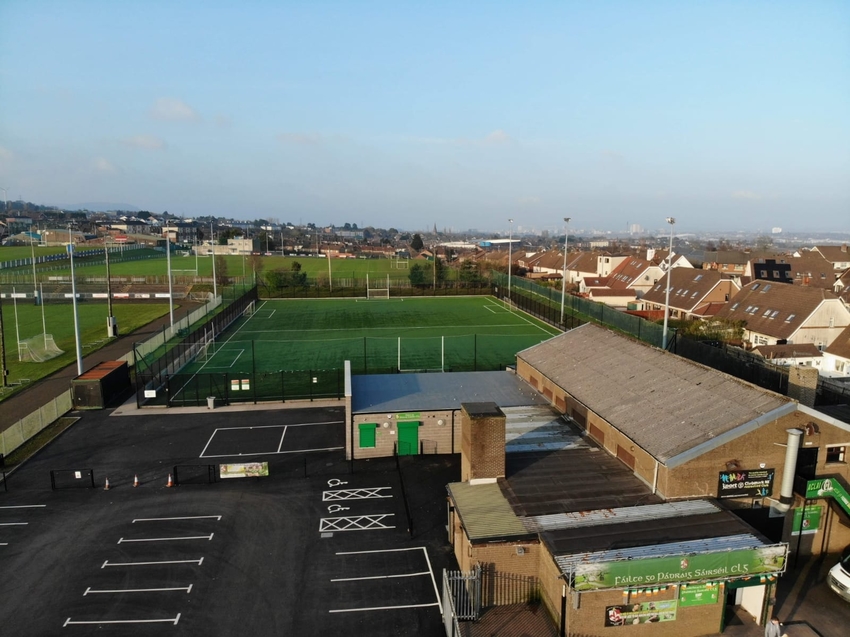 The Padraig Sairseil Club (Patrick Sarsfields GAC) really came into existence in the early months of 1904 when a group of young men and women at an impromptu meeting at the Bank Buildings in Royal Avenue, Belfast, decided to form a club for the promotion of our native language and dances. Language classes and ceilidhes were held in the old Foresters Hall which then stood at the corner of Millfield, and later in St Marys Hall, Bank Street in that part of the Hall known as the Columban Rooms.
On 6 October 1906, the men of the club decided to form a football club and in that month became affiliated to Cumann Luthchleas Gael, which was then in its infancy in Belfast. John Healy, John 0' Reilly, John McKenna, Peter Grimes, Mick Lynch and John F O'Rourke were the men that set the wheels in motion.
Playing honours were not long in coming to the club for they won the Senior Football League in 1911 to 1914 and the first Senior Football Championship in 1913. Six of that team, John Coburn Ned Ward, Willie Goggins, John Healy, Mattie Maguire and Jim Crowley played for Antrim in the two All Ireland Finals of 1911 and 1912.
The thirties were great hurling years for Patrick Sarsfields, winning three South Antrim Hurling Leagues and on three occasions were beaten in the final of the county hurling championship they also won the Minor Hurling Championship in 1930 and 1932.
At one period during this time, the club was able to field a team composed entirely of fifteen senior county hurlers. The Club Footballers won the 1935-36 Intermediate Football League and the club entered the Senior League after an absence of twenty years.
In 1940, we won the County Junior Football title and almost the same team went on to win the Senior Football Championship the following year. In the 1942 Final, leading Gael Uladh 0.8 to 0.6 when the game was abandoned and the club was suspended for 12 months. In 1941, '44 and '53 Sarsfields won the South Antrim Junior Hurling Championship and the South Antrim Hurling Leagues in 1949, '56 and '58. Further honours came rapidly with the Beringer Cup in 1955, Division 5 Football in 1961, and Minor and Under 16 Football and Hurling League in 1962, Butler Cup in 1963, Minor Football Championship in 1963 and Division 3 Hurling League 1964-65. The club minor side made a clean sweep in 1962 and the nucleus of that side went on to win three consecutive Under 21 Championships, four consecutive Senior Football Leagues (suffering only one defeat), one Senior Football Championship, and to contest three others.
In the 60's teams in both codes and at all levels were doing extremely well. Finance was required to modernise the club premises in Dover Street and following discussions with the club committee, former stars of the 40's, Billy Mallon and Billy Webb ably assisted by Paddy O'Reilly and a host of willing workers organised Bingo, three nights a week. It was an immediate success with the premises on occasions unable to house all that wished to participate. Augmented by the proceeds from regular ceilides, the club's finances grew steadily with some ploughed back to renovate the premises, inside and out.
In 1968 the premises were indeed palatial. The South Antrim Committee held its Convention there and at Easter 1969 we invited Tralee Mitchels to Belfast for the weekend. What a weekend it was. We played Mitchels at Casement Park on the Sunday, had a Dinner in their honour in the clubrooms on the Sunday Evening and then a Ceili in Romanos later that evening. It was a great occasion some Kerry greats were there Niall and Sean Sheehy, Sean Burrowes, Harry Burke, John O'Shea, Timmy Dowd, Johnny Kelliher and Seamus Roche. The 60's were great years, two ceilidhes held in the Plaza brought patrons from far a field with 1400 at one surpassed by 1600 a year later. Little did we know then of the disaster that was to strike. On 14 August 1969 we had a friendly Football game in Lurgan against Clann na Gael. The team returned around 10 o'clock to find it impossible to return to Dover Street due to the start of "the troubles" in the Lower Falls. Later that night our Club premises were raised to the ground by a mob from the Shankill Road led by 'B' Specials and a prominent M.P.
Within weeks, negotiations were successfully concluded with Belfast Corporation to rent premises in Divis Street and we carried on from these premises until May '74. Homeless after seventy years the club negotiated a lease of part of the available Shaws Road comple(Stewartstown Avenue entrance our existing residence) from the Antrim County Board. With such substantial ground at our disposal, the committee decided to build clubrooms adjacent to the playing field. With the generous financial assistance from the Club Development Scheme at Croke Park the premises were completed in 1978.
In the intervening periods of almost four years meetings were held regularly at members homes. It is only right that we should record our thanks to all those that placed their homes' at our disposal then and in the past and to those senior members Pat McCotter, Hugh McAteer, Pat O'Reilly and others who were always available with helpful advice.
On Saturday 1 July 1978, Con O'Murchu, Uachtaran Cumann Luthchleas Gael performed the opening ceremony. Alf O Muiri, former President of the association also attended as did Sean O Ruinaigh Cathaoirleach and AI Mac Muiri, An Runai, Coiste Chontae Antroma and Con Ennis. Sarsfields or the "Paddies" as we are known still hadn't made it as a Senior Hurling side and in 1972 a win in the Intermediate championship final against Cushendun at Ballycastle let all and sundry know that in future we would be a force to be reckoned with. Defeated in the semi-final of the Senior Championship in 1973 by St Johns we came back in 1974 and won what was to be our first Senior Hurling Championship. Canice Ward was rewarded for his performances over that period with a call up to the Ulster Hurling squad. The footballers were expected to complete "the double" but alas were beaten by a good Cargin side also winning their first Senior title. The footballers did gain some compensation by winning the Senior League for the first time from 1969.
During the eighties the club was arguably at their strongest throughout their history, contesting at both senior Hurling and Football within the Antrim All County Leagues. In 1984, we won the All Ireland U14 football Feile na nOg at Cavan without conceding a point. The same panel of players won both Football Leagues and Championship in 1984 in addition to the Feile na nOg.
At Senior Hurling the club won four in a row "Belfast Hurling Championships" from 1981, no team could touch them. (Mickey Smart was our second club player to be selected to the Ulster squad). At this time clubs feared Sarsfields. The club was unlucky to be beaten in two All-County championship semi finals. Loughguille defeated us by a single point and went on to win the All-Ireland club championship against Birr, Co. Offally in 1983.
Jim McKernan was recognised for his inspirational Hurling performances with three consecutive call ups to the Ulster Hurling team in 1984 (Centenary Year), 1985 and 1986. Jim went on to represent Antrim in All Ireland Senior Hurling Championships over a period from 1978 to 1989. Over the same period, our senior footballers won league and championship in 1985 for the very first time in fact they went through their entire league campaign without a single defeat. Defeating St. Pauls in the County Amtrim final the club for their very first time in their history entered the Ulster Club football championship. In the Â? final we played Fermanagh kingpins, Devenish and played them off the park at Casement to book a place against Scotstown of Co. Monaghan in the Ulster Club semi-final which we narrowly lost.
In the late 1980's and early 90's we excelled in the Minor Hurling Leagues and we continuously contested various juvenile silverware.January 29th 1993 was a big occasion for the Club with Peadar O'Ciunn, Uachtaran; Cumann Luthchleas Gael was guest of honour at our annual dinner ceili. A memorable night! Winning the 1995 Intermediate Football Championship was a great achievement and The Patrick Sarsfield Club founded in 1906 celebrated its ninetieth birthday with the Official opening of the club's new Playing Field Development by Uachtaran, Cumann Luthchleas Gael, Sean Boothman.
In 1994, we won the All Ireland U14 football Feile na nOg at Kerry coupled with the skills competition through, Larry Scullion. The same panel of players won both Football Leagues and Championship in 1994 in addition to the Feile na nOg.
The club has developed tremendously from their early existence in 1906, after the pitch development in 1997 we now have a playing facility, which is the envy to all throughout Ireland and look forward to challenge ahead of us in the new millennium... Millennium history, is work in progress!!
---


November 30 2020
AGM REMINDER
REQUEST FOR CLAR AND ATTENDANCE TO CLUB AGM JANUARY 2021




November 14 2020
Pádraig Sáirséil CLG
Pádraig Sáirséil CLG

Our AGM will be held on Thursday 14th January at 7pm

Due to ongoing restrictions the AGM will be held virtually this year, log in details etc will be issued in due course.

The meeting will only be open to full club members.

Nominations and yearly report templates will be issued in due course.



October 27 2020
Senior Management Positions 2021
Senior Management Positions 2021







Is there anyone you know who would be interested in hearing about the Pádraig Sáirséil CLG (Patrick Sarsfields CLG) Online Community?
Click here to email your friends and help us to 'Spread the Word' »