Kilkenny GAA Board Membership
Welcome to the official Lotto of Kilkenny GAA. The Lotto is a co-operative draw which is run on a weekly basis and plays a huge part in the fund raising efforts for all of the Clubs in the County and the County Board.



To play, any four numbers and a bonus number are selected from 1 to 28. If anybody matches the four numbers selected on the night he/she wins or shares the Jackpot. Match the first four numbers and the bonus to win/share the Jackpot plus €2,000. Tickets cost €2 each.
Promotion: We are offering you the opportunity to get a huge saving on a yearly Lotto Ticket. Full Year for €80.00 online instead of €100.00. This gives you 50 weeks for the price of 40!
You can also join our Supporters Club by clicking on "Purchase Your Club Membership Here" or support our other occasional joint fundraising ventures with our Clubs.



Your continued support for your club, Kilkenny GAA and the Developments in Nowlan Park is greatly appreciated. On behalf of all involved in Kilkenny GAA we wish you all the best in the future draws.
You can visit our main website at:
www.kilkennygaa.ie
Best of Luck,
Kilkenny GAA County Board.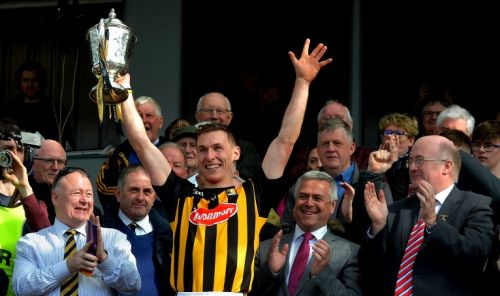 ---
December 24 2019

Being updated...

December 17 2019

Being updated...

October 25 2020

Kilkenny GAA Supporters Club Membership 2020
PLAY YOUR PART BY ENSURING THAT OUR KILKENNY TEAMS ARE BEST PREPARED TO COMPETE SUCCESSFULLY FOR ALL IRELAND HONOURS IN ALL GRADES.





January 5 2017

Bord na Mona Walsh Cup Tie Opens 2017 Season
The 2017 GAA season gets underway this Thuursday evening when Kilklenny host DCU in the opening round of the Bord na Mona Walsh Cup. The Kilkenny side for this game will be made up of the under 21 squad and managed by u21 team manaager Eddie Brennan, The game throws in at 7,30 at MW Hire Park Dunmore. Supporters are asked to adhere to the requests of stewards and Gardai especially in relation to exit arrangements after the game.



January 1 2017

J J Kavanagh and Sons Junior Football
Tullougher Roisbercon win out






Is there anyone you know who would be interested in hearing about the Kilkenny GAA Board Online Community?

Click here to email your friends and help us to 'Spread the Word' »