Young Munster RFC Membership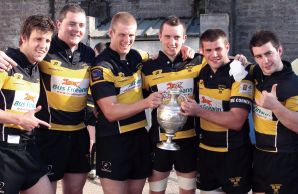 Welcome to the official Lotto and fundraising website of Young Munster RFC. On this site, you will be able to conduct all of your payments to Young Munster RFC at a time that is convenient to you.
The Young Munster RFC Fundraising Lotto draws, which will run on a weekly basis, plays a huge part in the fundraising efforts, and hence future, of our Club.
We encourage all of our existing and former members and players, parents of Mini and Youth players, all our friends from the local and wider, social, business and sporting community to play the Young Munster RFC fundraising lotto. We also hope that we can all work together to promote this lotto and help get back in touch with people associated with Young Munster RFC who may now be living all over the world. We can use our new website www.youngmunster.com Facebook and twitter and all members can help us do this.
Any four numbers are selected from 1 to 26. If anybody matches the four numbers selected on the night he/she wins or shares the Jackpot. If there is no Jackpot winner, there will be four lucky dip winners for €40.00 each. Tickets cost €2 each.
Your continued support is very much appreciated and we wish you good luck in future draws.
Best of Luck,
The Fundraising Committee,
Young Munster RFC
---
March 31 2020

Being updated...

March 10 2020

March 3 2020

February 25 2020

February 18 2020

March 20 2013

Young Munster U12s win the John Woods Cup
A big well done to our under 12s who travelled to Kilfeacle on March 10th to play in the 3rd annual John Woods Cup.



Paul O'Connell returns for Young Munster
Paul O'Connell played his first 80 minutes of rugby since last October for Young Munster in last weekend's Ulster Bank League fixture against Cork Constitution.



March 13 2013

Young Munster win U21 AIL South West Conference
Young Munster captured the Under 21 AIL South West Conference title after beating UCC 17-5 in Greenfields last Saturday. Going into the game Young Munster were five points ahead of Cork Constitution in the league and needed at least a losing bonus point to win the title.






Is there anyone you know who would be interested in hearing about the Young Munster RFC Online Community?

Click here to email your friends and help us to 'Spread the Word' »