Greenfields Hockey Club Membership
Welcome to the official website of Greenfields Hockey Club in Galway. We hope to be able to use this new web site to communicate with all of our new and existing members. In addition if you are thinking about joining a hockey club that is going places, then please drop us a line by clicking on the "contact us" button above. You may also go to our "Club contacts" to the left if you would rather make contact by phone.
As in all clubs, the need for fundraising is a constant with Greenfields Hockey. We are a completely voluntary club and all of the funds raised are used to run the club on a day to day basis. To aid our fundraising efforts, Greenfields Hockey are again leading the way. We are the first hockey club in Ireland to provide our members with the ability to support us by playing our new lotto on-line! We hope that you will click on one of the links above and see how easy it is to support us. And who knows you may be a winner.
We encourage all of our members, new and old, in Galway and further afield to play the Greenfields Hockey Club fundraising lotto. We also hope that we can all work together to promote this lotto and help get back in touch with ex members or family of our current club members, wherever they may be living. Any four numbers are selected from 1 to 32. If anybody matches the four numbers selected on the night he/she wins the Jackpot. If anybody matches three numbers selected on the night he/she wins/shares €50. Tickets cost €2 each. But if you're not in, you can't win!
Greenfields Hockey Club has been in existence since 1970 and is a prominent member of Connacht Hockey. The club is an open democratically run organisation, and presently has a membership of 228, (30 Adults, 38 family and 215 under age members).
If you would like more information on the club, please click on the link to the left. In addition if you would like to be kept up to date by e-mail, simply sign up for our newsletter.
We are a progressive and inclusive club and always welcome new members both online and offline.
Pictured below are a group of Greenfields members who attended the Galway Sports Stars Awards gala banquet on Saturday January 23rd. Imelda Brennan was honoured with the Special Dedication Award, for her lifelong commitment to Connacht hockey, & Ellie Noone received the Hockey Award for her outstanding performance with the Irish U18 team.
Front Row L-R:Clare O'Grady (Club President), Carmel Heery, Rebecca Gilligan, Ellie Noone, Imelda Brennan, Kate Brennan Carolyn Shiels & Cliona Kennedy

Back Row L-R: Marie Halliday, Deirdre McDermott, Finola McGuinness, Debbie Heery, Phil Noone, Alma Whelan, Catherine Moore, Sinéad Collins, Maura Gilligan, Helen Royliston, Jack Halliday, & Monique Murphy.
Greenfields Stars Shine for 2016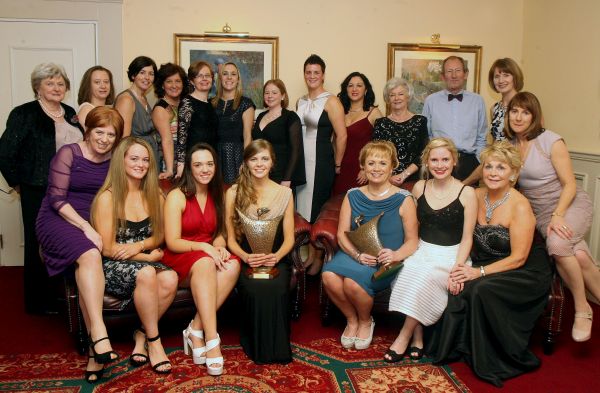 ---
February 6 2021

Being updated...

January 30 2021

January 23 2021

Being updated...

January 16 2021

January 9 2021

July 28 2017

World Cup place secured!
Irelands' Men qualify for India 2018



July 13 2017

Hockey World League 2017
Irish Women reach Quarter-Final



June 21 2017

3-Day Summer Hockey Camp
Open to all






Is there anyone you know who would be interested in hearing about the Greenfields Hockey Club Online Community?

Click here to email your friends and help us to 'Spread the Word' »