Old Leighlin GAA Club Membership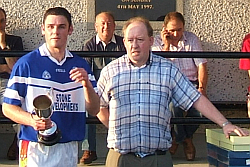 Welcome to the official Lotto website of the Old Leighlin GAA Club. Our Lotto draws which run on a weekly basis play a huge part in the fund raising efforts of our Club.
Any four numbers are selected from 1 to 28. If anybody matches the four numbers selected on the night he/she wins/shares the Jackpot. If the jackpot is not won on the night 10 tickets are drawn for a consolation prize of €15 each. Tickets cost €2 each.
Your continued support is much appreciated and we wish you good luck in future draws.
---
November 29 2023

November 22 2023

November 15 2023

November 8 2023

November 1 2023

April 27 2021

Club Registration 2021
Club registration 2021



December 30 1899

OLD LEIGHLIN COOPERATION IRELAND PRIDE OF PLACE - REPRESENTING CARLOW IN THIS 32 COUNTY COMPETITION
Great day had by all congratulations to all concerned. Lots to see do and entertained by.








Is there anyone you know who would be interested in hearing about the Old Leighlin GAA Club Online Community?

Click here to email your friends and help us to 'Spread the Word' »